The Iglu Original
Don't let cold weather make you uncomfortable at your favorite outdoor events.
The Iglu Original $149.99
Brave the outdoors at any temperature
The Iglu Original can keep you warm and comfortable in any weather without being a hassle to bring with you and wear. Our smart and stylish design is just what you need for every outdoor event.
Style, Comfort, and Versatility.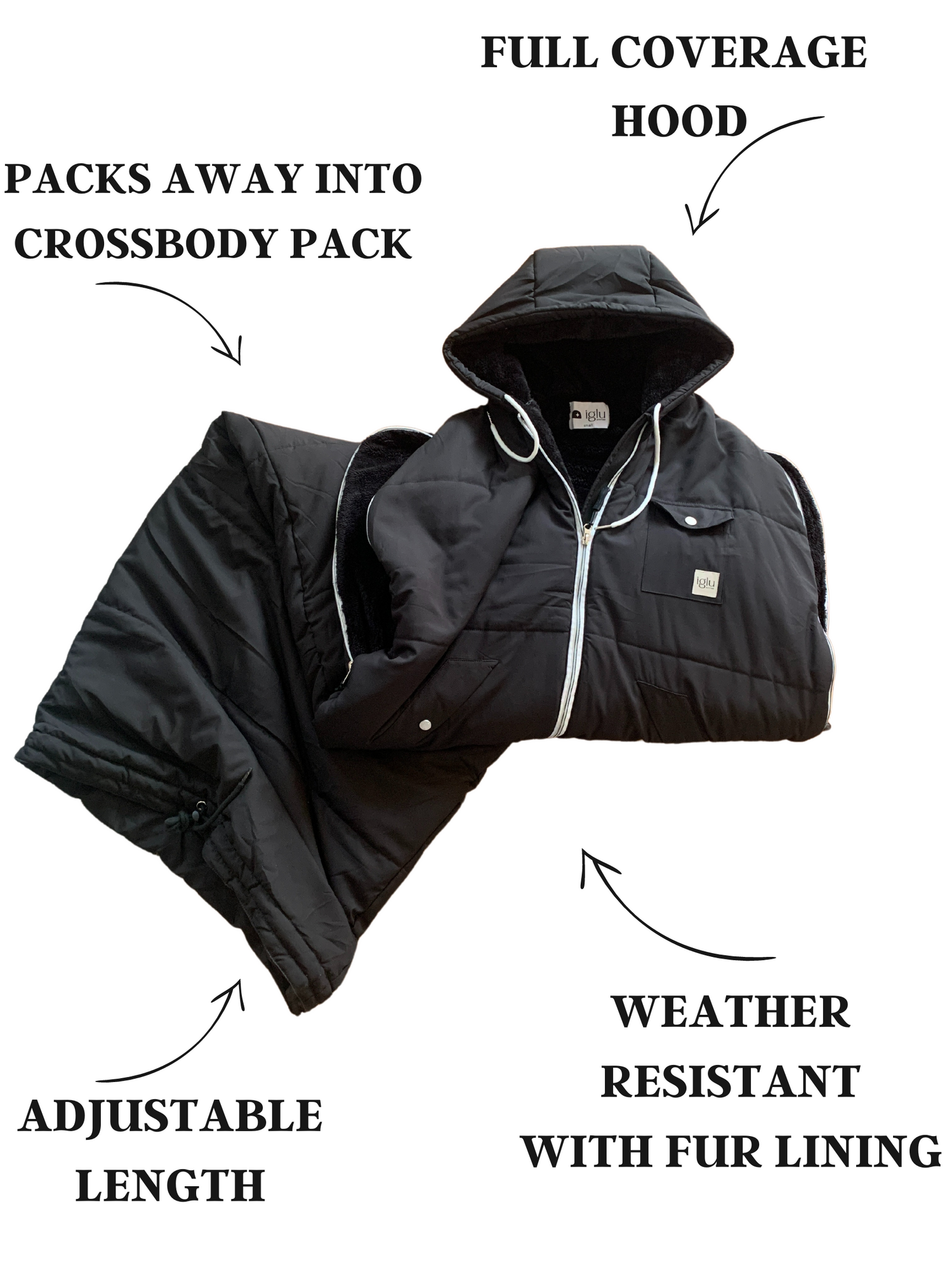 Style.

With length adjustable, no need to compromise style for comfort with The Iglu Original.

Comfort.

The Iglu Original will be keeping you warm no matter the adventure. Zip yourself up in fur lined comfort.

Versatility.

With the crossbody pack The Iglu Original is easy to carry and store.
Our FAQs
SIZING

Small - Chest Width 27 inches Length 66 1/4 inches

Medium - Chest Width 28 inches Length 66 1/4 inches

Large - Chest Width 29 inches Length 66 1/4 inches

X-Large - Chest Width 30 inches Length 66 1/4 inches
MATERIAL CONTENT & WARRANTY

Outside-100% polyester

Lining-100% polyester

Inside fur- 100% polyester

WARRANTY DISCLAIMER FOR IGLU WEARABLE SLEEPING BAG
Last Updated: 1/1/2023


IMPORTANT: PLEASE READ THIS WARRANTY DISCLAIMER CAREFULLY BEFORE USING.
This wearable sleeping bag is warranted to be free from defects in materials and workmanship for a period of 1 year from the date of original retail purchase, as evidenced by the sales receipt. This warranty extends only to the original retail purchaser and is not transferable.


EXCLUSIONS AND LIMITATIONS
This warranty does not cover:
Damage Due to Misuse or Abuse: This includes, but is not limited to, damage resulting from placing the product close to open flames, heaters, or any other high-temperature sources which could melt the fabric or components of the product. It is the responsibility of the user to ensure that the product is used in a safe and appropriate manner.


Normal Wear and Tear: Degradation of the Product due to normal wear and tear, including exposure to the elements and the natural breakdown of materials over time, is not covered under this warranty.


Alterations or Modifications: Any alterations or modifications to the Product, whether by the retailer, the purchaser, or any third party, voids this warranty.


Improper Care or Maintenance: Failure to care for and maintain the Product in accordance with the care instructions provided by the manufacturer will void this warranty.


LIMITATION OF LIABILITY
IN NO EVENT SHALL IGLU OUTFITTERS BE LIABLE FOR ANY INCIDENTAL, INDIRECT, SPECIAL, OR CONSEQUENTIAL DAMAGES ARISING OUT OF OR IN CONNECTION WITH THE USE OF THE PRODUCT.
SHIPPING

We want you to get your iglu as quick as possible! 

Orders are processed within 24-48 hours of receiving confirmation emails M-F. Orders placed on weekends or holidays will be processed the following business day.

At this time, we only ship to the United States. 

Incorrect Address: If the address you provide is undeliverable due to a mistake, you will be responsible for an additional $12 flat fee for postage needed. 

Contact us through our support email help@igluoutfitters.com and we will work on correcting this issue for you.
RETURN POLICY

If your product arrives and you don't love it, you have 14 days from the date your product was delivered to begin your return for a refund or for an exchange. 

To begin this process please take the following steps to get your return or exchange moving as quickly as possible. We can only accept and process returns/exchanges which have followed the instructions below:

- Products may not have been worn or used outside the first try on and all
tags must still be on the garment to qualify for a return/exchange. 

- Customers are responsible for the return shipping unless, of course, the
item was damaged or defective when you got it and we were notified about
it within 5 business days.

-ALL holiday purchases must be communicated with customer service on a case by case basis prior to JANUARY 15th.

-Please communicate all returns through our customer service team. Sending without communication could result in restocking fee or no refund.

ALL SALES FINAL - For any customized IGLU with customized patches, all sales are final.
RETURN/ EXCHANGE PROCESS

Online returns are super easy! 

Follow one of these two simple return instructions.


1.CLICK HERE to recieve a prepaid shipping label to begin your return process. All product must be recieved within the 14 day return policy.

If you are choosing to use our return label to ship your return, a $16 shipping label fee will be deducted from your refund amount. This only applies if you use the label.

2. Ship with any courier of your choice.

If you choose this return method please contact our customer support team for instructions on where to ship the item back.

Please ensure you include your RMA number (if provided), your order number and name inside the package.

*Please note: we reserve the right to refuse any return if it was returned to us damaged and we were not contacted about it within 5 business days of its delivery date.

You will be notified once your return has been processed and refunded to the requested method of payment, typically within 5 business days of arrival to us.

EXCHANGES

In order to exchange an item we ask that you please contact our customer support team at help@igluoutfitters.com for further instructions. Please include your order number and the new size you would like to exchange for. For any exchanges the customer is responsible for the shipping to send the Iglu back.